Meeting challenges in nanofabrication
ConScience is a high tech company operating in the field of nanotechnology. Our products are used in academia and industry supporting R&D activities as well as frontier research. We operate in state-of-the-art nanofabrication laboratories, providing a broad platform for the development and fabrication of systems based on nanostructuring.

Products
We offer a variety of products that share a reputation for technical excellence and reliability among our clients. Our flexibility and commitment allows us to provide both customized and standard versions of these products with short lead times.
Nanofluidic Systems
Custom-designed systems to study fluids under sub-micrometer confinement for biological research and fundamental polymer science.
Read moreClose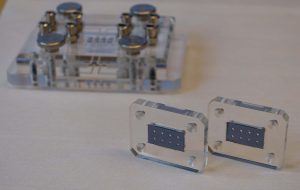 Based on our own work in the field of nanofluidics, the FUEC system has been developed in close collaboration with our customers, aiming at maximizing comfort and flexibility for nanofluidic experiments. The FUEC system comprises framed nanofluidic chips, chip holders, and a pressurizing unit that can be assembled easily. Our nanofluidic chips are custom-designed and typically made of glass, fused silica and glass-silicon composite materials with a high degree of biocompatibility and high resistance to difficult environmental conditions (e.g. aggressive chemicals and/or high temperatures).
Customized TEM membranes
Silicon nitride support films for transmission electron microscopy with integrated components for in situ analysis of reactions and materials at atomic resolution.
Read moreClose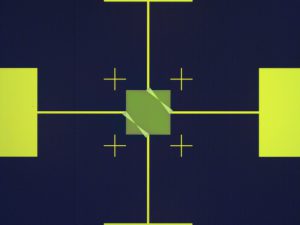 Thin films of low-stress silicon nitride are utilized to create large transparent windows appreciated in transmission electron microscopy (TEM). We offer these membranes as plain or integrated TEM windows with customizable lateral dimensions. Our integrated TEM windows comprise structures such as openings, electrodes, or heaters with a resolution down to sub-10 nm, allowing in situ for atomic resolution during analysis of materials and reactions.
Nanoplasmonic Sensors
Optical sensors based on nanoplasmonics for detecting minute amounts of biological objects and chemicals in a fast and contact-free manner using spectroscopic methods.
Read moreClose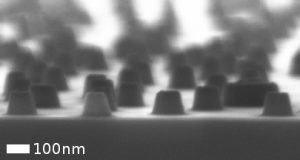 Analytic methods in biology and chemistry strive after ever increasingly sensitivity to meet today's demands in e.g. public health care, catalysis or homeland security. One promising approach is based on optical sensors using nanoplasmonics to detect objects and reagents at extremely low concentration or with upmost selectivity. We offer a wide range of nanoplasmonic sensors fabricated with electron beam or hole-mask colloidal lithography. In general, we can design these sensors in a large variety of shapes, surface coatings, materials or material stacks adapted to your purpose.
Superconducting Single-Photon Detectors
Near-infrared and optical single-photon detectors based on current-biased superconducting nanowires for quantum information and imaging of infrared photoemission.
Read moreClose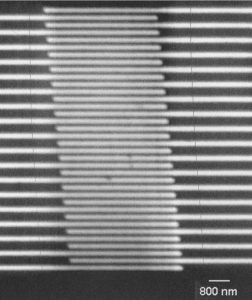 Thin-film superconducting nanowires are used for single-photon detection in the near-infrared and visible range of the electromagnetic spectrum. When hitting the active region of such detector, photons are absorbed leading to a local breakdown of the superconductive state in the nanowire. The correlated increase in resistivity can be measured with high temporal resolution allowing for the detection of individual photons. Our superconducting single-photon detectors are based on high-quality niobium nitride films, electron-beam lithography and reactive ion etching, ensuring excellent performance due to sharp phase transitions and minimum line-edge roughness.
Services
With the focus on nanostructures, ConScience offers a wide range of processing and characterization services in cleanroom environment. From development and prototyping to small series production, we offer the opportunity to implement your ideas in nanotechnology.
High Resolution SU-8 Structuring Abilities
We offer sub-50nm nanostructures with high aspect ratios fabricated in the demanding resist SU-8 to create plating molds, MEMS or micro- and nanofluidic devices.
Read moreClose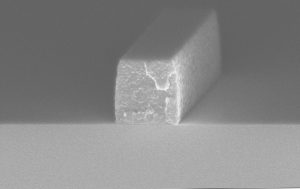 SU-8 is a negative tone photo resist often applied in thick layers that can be exposed both by UV-light and electrons. Well known for excellent biocompatibility as well as high mechanical and chemical stability, the resist is frequently used in microfluidics and MEMS. Moreover, SU-8 became a popular material in the field of plating due to the possibility to structure the resist at unusual thicknesses. Our processes for SU-8 allow to pattern films of thicknesses from beyond 100µm down to 40nm, keeping critical dimensions as small as 30nm, while offering enhanced adhesion and mixing of nano- and micro structuring. 
Electron Beam Lithography at the Resolution Limit
Processing of sub-10 nm features is achieved by high resolution electron beam lithography and well controlled pattern transfer techniques.
Read moreClose

The use of state-of-the-art electron-beam lithography systems combined with our excellent process control allows for fabricating structures with features in the sub-10 nm regime. Moreover, we are experienced in transferring such high-resolution patterns into thin films or substrates by lift-off techniques or dry etching. For example, we have produced quasi-closed gold films comprising large areas of periodically arranged squares separated by gaps of 6 nm.
Fabrication of Complex Multi-Layer Devices
In-depth process control, detailed fabrication knowledge and thorough working methods allow us to fabricate complex devices with high yield.
Read moreClose

The fabrication of complex multi-layer devices requires rigorous and clean working routines as well as a thorough understanding of all included process steps to achieve high performance and cost efficiency. Our long-standing cleanroom experience and nanofabrication expertise enables us to fabricate such highly integrated complex devices with many different layers such as hot-electron bolometer mixers and Schottky diodes for heterodyne receivers for THz radiation.
Science Writing and Editing
We offer science communication services and we specialise in writing and editing scientific content, in particular popular science news and feature articles. In addition to science journalism assignments, we take commissions concerning technical documents, academic reports and science-related web or blog content
Read moreClose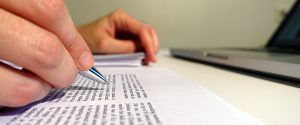 We have doctorate-level expertise in physics and chemistry related subjects and several years of experience in writing and editing scientific content. We can help you with content for target groups such as academia and the public. Current clients include Chalmers University of Technology for whom we provide content and design for the popular science exhibition "Materials in our lives" aimed at the public and in particular high school students, which is taking place in November 2016. Another example of a recent client is ElevateScientific who commissioned us to perform substantive and copy-editing of scientific abstracts. Please contact  ac@con-science.se if you would like to discuss your idea and arrange for a quote.
References & Testimonials
A broad scientific background and excellent skills in nanofabrication define our profile. Understanding the science behind your ideas that need nanofabrication allows us to give valuable advise for planning your project. This philosophy is appreciated by both academic and industrial customers that make up our client portfolio.
Rounded Sensors
Tuning surface properties of nanoparticles for studies of their interactions with molecules in biological systems.
Read moreClose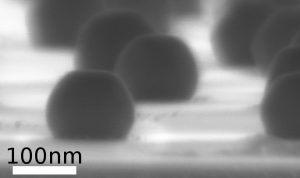 Following our customer's idea to investigate key features of nanoparticles and their effects on biological systems, we developed a protocol that allows for tuning the facet-to-edge ratios of nanoparticles. Particular processing steps comprise hole-mask colloidal lithography and rapid temperature treatments, resulting in quasi-spherical nanoparticles of faceted equilibrium shape. These structures facilitate in-depth studies of the formation of bio-corona on nanoparticles, adding a valuable tool to the portfolio of our costumer in the field of nanomedicine and nanotoxicology.
Nanodiamonds
Narrow gaps etched into a nanodiamond film forming nanopillars reaching a aspect ration of 1:14.
Read moreClose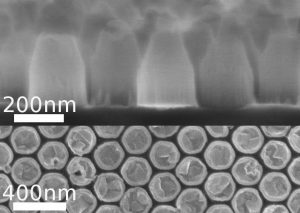 Due to an increasing availability thin films of nanodiamonds enjoy growing popularity in the research community. In this case our customer required hexagonal arranged and tightly packed nanopillars fabricated from their diamond films. Meeting the request to reduce the distance between adjacent pillars as much as possible we succeeded to etch gaps as narrow as 22 nm in a 320 nm thick film, resulting in aspect ratios exceeding 1:14 for the gaps.
Microfluidic Devices
Especially the small test volumes and the precise manipulation capabilities cause the popularity of microfluidic devices. in the fields of among others biology, chemistry, pharmaceutics and food science.
 Read moreClose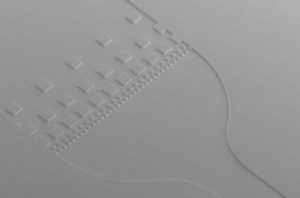 The multidisciplinary field of microfluidics deals with the behavior, precise control, and manipulation of fluids that are geometrically constrained to a small scale, recently used by our costumer to meet the need for fast diagnostics of antimicrobial resistance - a globally emerging problem that threatens our ability to treat common infectious diseases, resulting in prolonged illness, disability, and death. By measuring the physiological response at the level of single cells and averaging over the corresponding population, our costumer could differentiate between resistant and susceptible bacteria within 3-11 minutes, while the golden standard usually takes 2 days to perform.
Patrik Dalqvist
CEO Insplorion
"The mix of fast and flexible in combination with highly competent and knowable service from ConScience has been essential in the development of our technology and our company."
Prof. Johan Elf
Uppsala University
"Over the past six years of working with ConScience I have always been impressed with their support in nanofabrication. I would thoroughly recommend this company!"
About ConScience
ConScience is a high technology company offering cleanroom consulting. Our portfolio ranges from self developed products via fabricating your devices in a state-of-the-art cleanroom facility to realizing your ideas including the complete process development. The core of our business are our excellent nanofabrication skills as well as our broad scientific background and open-mindedness. Understanding your scientific idea enables us to give valuable advise for planning your project and turning it into a nanodevice. Our customers from academic research and industry appreciate this philosophy.