Meeting challenges in nanofabrication
Con­Science is a high tech com­pa­ny oper­at­ing in the field of nan­otech­nol­o­gy. Our prod­ucts are used in acad­e­mia and indus­try sup­port­ing R&D activ­i­ties as well as fron­tier research. We oper­ate in state-of-the-art nanofab­ri­ca­tion lab­o­ra­to­ries, pro­vid­ing a broad plat­form for the devel­op­ment and fab­ri­ca­tion of sys­tems based on nanos­truc­tur­ing.

Products
We offer a vari­ety of prod­ucts that share a rep­u­ta­tion for tech­ni­cal excel­lence and reli­a­bil­i­ty among our clients. Our flex­i­bil­i­ty and com­mit­ment allows us to pro­vide both cus­tomized and stan­dard ver­sions of these prod­ucts with short lead times.
Nanofluidic Systems
Cus­tom-designed sys­tems to study flu­ids under sub-microm­e­ter con­fine­ment for bio­log­i­cal research and fun­da­men­tal poly­mer sci­ence.
Read moreClose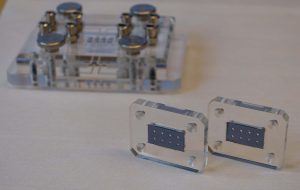 Based on our own work in the field of nanoflu­idics, the FUEC sys­tem has been devel­oped in close col­lab­o­ra­tion with our cus­tomers, aim­ing at max­i­miz­ing com­fort and flex­i­bil­i­ty for nanoflu­idic exper­i­ments. The FUEC sys­tem com­pris­es framed nanoflu­idic chips, chip hold­ers, and a pres­sur­iz­ing unit that can be assem­bled eas­i­ly. Our nanoflu­idic chips are cus­tom-designed and typ­i­cal­ly made of glass, fused sil­i­ca and glass-sil­i­con com­pos­ite mate­ri­als with a high degree of bio­com­pat­i­bil­i­ty and high resis­tance to dif­fi­cult envi­ron­men­tal con­di­tions (e.g. aggres­sive chem­i­cals and/or high tem­per­a­tures).
Customized TEM membranes
Sil­i­con nitride sup­port films for trans­mis­sion elec­tron microscopy with inte­grat­ed com­po­nents for in situ analy­sis of reac­tions and mate­ri­als at atom­ic res­o­lu­tion.
Read moreClose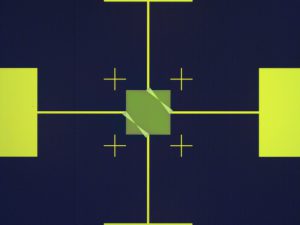 Thin films of low-stress sil­i­con nitride are uti­lized to cre­ate large trans­par­ent win­dows appre­ci­at­ed in trans­mis­sion elec­tron microscopy (TEM). We offer these mem­branes as plain or inte­grat­ed TEM win­dows with cus­tomiz­able lat­er­al dimen­sions. Our inte­grat­ed TEM win­dows com­prise struc­tures such as open­ings, elec­trodes, or heaters with a res­o­lu­tion down to sub-10 nm, allow­ing in situ for atom­ic res­o­lu­tion dur­ing analy­sis of mate­ri­als and reac­tions.
Nanoplasmonic Sensors
Opti­cal sen­sors based on nanoplas­mon­ics for detect­ing minute amounts of bio­log­i­cal objects and chem­i­cals in a fast and con­tact-free man­ner using spec­tro­scop­ic meth­ods.
Read moreClose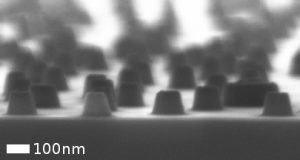 Ana­lyt­ic meth­ods in biol­o­gy and chem­istry strive after ever increas­ing­ly sen­si­tiv­i­ty to meet today's demands in e.g. pub­lic health care, catal­y­sis or home­land secu­ri­ty. One promis­ing approach is based on opti­cal sen­sors using nanoplas­mon­ics to detect objects and reagents at extreme­ly low con­cen­tra­tion or with upmost selec­tiv­i­ty. We offer a wide range of nanoplas­mon­ic sen­sors fab­ri­cat­ed with elec­tron beam or hole-mask col­loidal lith­o­g­ra­phy. In gen­er­al, we can design these sen­sors in a large vari­ety of shapes, sur­face coat­ings, mate­ri­als or mate­r­i­al stacks adapt­ed to your pur­pose.
Superconducting Single-Photon Detectors
Near-infrared and opti­cal sin­gle-pho­ton detec­tors based on cur­rent-biased super­con­duct­ing nanowires for quan­tum infor­ma­tion and imag­ing of infrared pho­toe­mis­sion.
Read moreClose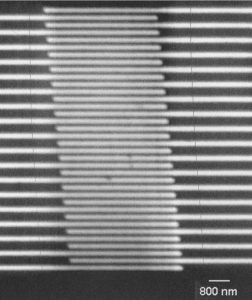 Thin-film super­con­duct­ing nanowires are used for sin­gle-pho­ton detec­tion in the near-infrared and vis­i­ble range of the elec­tro­mag­net­ic spec­trum. When hit­ting the active region of such detec­tor, pho­tons are absorbed lead­ing to a local break­down of the super­con­duc­tive state in the nanowire. The cor­re­lat­ed increase in resis­tiv­i­ty can be mea­sured with high tem­po­ral res­o­lu­tion allow­ing for the detec­tion of indi­vid­ual pho­tons. Our super­con­duct­ing sin­gle-pho­ton detec­tors are based on high-qual­i­ty nio­bi­um nitride films, elec­tron-beam lith­o­g­ra­phy and reac­tive ion etch­ing, ensur­ing excel­lent per­for­mance due to sharp phase tran­si­tions and min­i­mum line-edge rough­ness.
Services
With the focus on nanos­truc­tures, Con­Science offers a wide range of pro­cess­ing and char­ac­ter­i­za­tion ser­vices in clean­room envi­ron­ment. From devel­op­ment and pro­to­typ­ing to small series pro­duc­tion, we offer the oppor­tu­ni­ty to imple­ment your ideas in nan­otech­nol­o­gy.
High Resolution SU‑8 Structuring Abilities
We offer sub-50nm nanos­truc­tures with high aspect ratios fab­ri­cat­ed in the demand­ing resist SU‑8 to cre­ate plat­ing molds, MEMS or micro- and nanoflu­idic devices.
Read moreClose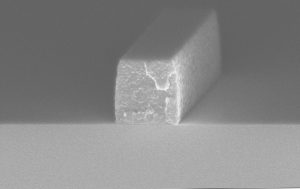 SU‑8 is a neg­a­tive tone pho­to resist often applied in thick lay­ers that can be exposed both by UV-light and elec­trons. Well known for excel­lent bio­com­pat­i­bil­i­ty as well as high mechan­i­cal and chem­i­cal sta­bil­i­ty, the resist is fre­quent­ly used in microflu­idics and MEMS. More­over, SU‑8 became a pop­u­lar mate­r­i­al in the field of plat­ing due to the pos­si­bil­i­ty to struc­ture the resist at unusu­al thick­ness­es. Our process­es for SU‑8 allow to pat­tern films of thick­ness­es from beyond 100µm down to 40nm, keep­ing crit­i­cal dimen­sions as small as 30nm, while offer­ing enhanced adhe­sion and mix­ing of nano- and micro struc­tur­ing.
Electron Beam Lithography at the Resolution Limit
Pro­cess­ing of sub-10 nm fea­tures is achieved by high res­o­lu­tion elec­tron beam lith­o­g­ra­phy and well con­trolled pat­tern trans­fer tech­niques.
Read moreClose

The use of state-of-the-art elec­tron-beam lith­o­g­ra­phy sys­tems com­bined with our excel­lent process con­trol allows for fab­ri­cat­ing struc­tures with fea­tures in the sub-10 nm regime. More­over, we are expe­ri­enced in trans­fer­ring such high-res­o­lu­tion pat­terns into thin films or sub­strates by lift-off tech­niques or dry etch­ing. For exam­ple, we have pro­duced qua­si-closed gold films com­pris­ing large areas of peri­od­i­cal­ly arranged squares sep­a­rat­ed by gaps of 6 nm.
Fabrication of Complex Multi-Layer Devices
In-depth process con­trol, detailed fab­ri­ca­tion knowl­edge and thor­ough work­ing meth­ods allow us to fab­ri­cate com­plex devices with high yield.
Read moreClose

The fab­ri­ca­tion of com­plex mul­ti-lay­er devices requires rig­or­ous and clean work­ing rou­tines as well as a thor­ough under­stand­ing of all includ­ed process steps to achieve high per­for­mance and cost effi­cien­cy. Our long-stand­ing clean­room expe­ri­ence and nanofab­ri­ca­tion exper­tise enables us to fab­ri­cate such high­ly inte­grat­ed com­plex devices with many dif­fer­ent lay­ers such as hot-elec­tron bolome­ter mix­ers and Schot­tky diodes for het­ero­dyne receivers for THz radi­a­tion.
Science Writing and Editing
We offer sci­ence com­mu­ni­ca­tion ser­vices and we spe­cialise in writ­ing and edit­ing sci­en­tif­ic con­tent, in par­tic­u­lar pop­u­lar sci­ence news and fea­ture arti­cles. In addi­tion to sci­ence jour­nal­ism assign­ments, we take com­mis­sions con­cern­ing tech­ni­cal doc­u­ments, aca­d­e­m­ic reports and sci­ence-relat­ed web or blog con­tent
Read moreClose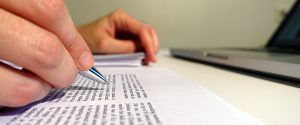 We have doc­tor­ate-lev­el exper­tise in physics and chem­istry relat­ed sub­jects and sev­er­al years of expe­ri­ence in writ­ing and edit­ing sci­en­tif­ic con­tent. We can help you with con­tent for tar­get groups such as acad­e­mia and the pub­lic. Cur­rent clients include Chalmers Uni­ver­si­ty of Tech­nol­o­gy for whom we pro­vide con­tent and design for the pop­u­lar sci­ence exhi­bi­tion "Mate­ri­als in our lives" aimed at the pub­lic and in par­tic­u­lar high school stu­dents, which is tak­ing place in Novem­ber 2016. Anoth­er exam­ple of a recent client is Ele­vate­Sci­en­tif­ic who com­mis­sioned us to per­form sub­stan­tive and copy-edit­ing of sci­en­tif­ic abstracts. Please con­tact ac@con-science.se if you would like to dis­cuss your idea and arrange for a quote.
References & Testimonials
A broad sci­en­tif­ic back­ground and excel­lent skills in nanofab­ri­ca­tion define our pro­file. Under­stand­ing the sci­ence behind your ideas that need nanofab­ri­ca­tion allows us to give valu­able advise for plan­ning your project. This phi­los­o­phy is appre­ci­at­ed by both aca­d­e­m­ic and indus­tri­al cus­tomers that make up our client port­fo­lio.
Rounded Sensors
Tun­ing sur­face prop­er­ties of nanopar­ti­cles for stud­ies of their inter­ac­tions with mol­e­cules in bio­log­i­cal sys­tems.
Read moreClose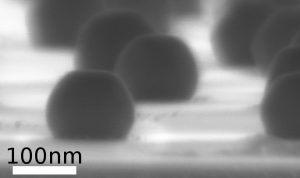 Fol­low­ing our customer's idea to inves­ti­gate key fea­tures of nanopar­ti­cles and their effects on bio­log­i­cal sys­tems, we devel­oped a pro­to­col that allows for tun­ing the facet-to-edge ratios of nanopar­ti­cles. Par­tic­u­lar pro­cess­ing steps com­prise hole-mask col­loidal lith­o­g­ra­phy and rapid tem­per­a­ture treat­ments, result­ing in qua­si-spher­i­cal nanopar­ti­cles of faceted equi­lib­ri­um shape. These struc­tures facil­i­tate in-depth stud­ies of the for­ma­tion of bio-coro­na on nanopar­ti­cles, adding a valu­able tool to the port­fo­lio of our cos­tumer in the field of nanomed­i­cine and nan­otox­i­col­o­gy.
Nanodiamonds
Nar­row gaps etched into a nan­odi­a­mond film form­ing nanopil­lars reach­ing a aspect ration of 1:14.
Read moreClose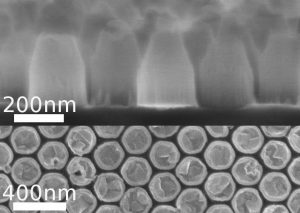 Due to an increas­ing avail­abil­i­ty thin films of nan­odi­a­monds enjoy grow­ing pop­u­lar­i­ty in the research com­mu­ni­ty. In this case our cus­tomer required hexag­o­nal arranged and tight­ly packed nanopil­lars fab­ri­cat­ed from their dia­mond films. Meet­ing the request to reduce the dis­tance between adja­cent pil­lars as much as pos­si­ble we suc­ceed­ed to etch gaps as nar­row as 22 nm in a 320 nm thick film, result­ing in aspect ratios exceed­ing 1:14 for the gaps.
Microfluidic Devices
Espe­cial­ly the small test vol­umes and the pre­cise manip­u­la­tion capa­bil­i­ties cause the pop­u­lar­i­ty of microflu­idic devices. in the fields of among oth­ers biol­o­gy, chem­istry, phar­ma­ceu­tics and food sci­ence.
Read moreClose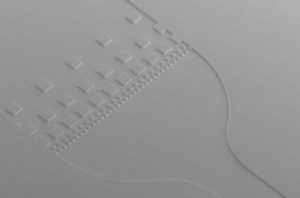 The mul­ti­dis­ci­pli­nary field of microflu­idics deals with the behav­ior, pre­cise con­trol, and manip­u­la­tion of flu­ids that are geo­met­ri­cal­ly con­strained to a small scale, recent­ly used by our cos­tumer to meet the need for fast diag­nos­tics of antimi­cro­bial resis­tance — a glob­al­ly emerg­ing prob­lem that threat­ens our abil­i­ty to treat com­mon infec­tious dis­eases, result­ing in pro­longed ill­ness, dis­abil­i­ty, and death. By mea­sur­ing the phys­i­o­log­i­cal response at the lev­el of sin­gle cells and aver­ag­ing over the cor­re­spond­ing pop­u­la­tion, our cos­tumer could dif­fer­en­ti­ate between resis­tant and sus­cep­ti­ble bac­te­ria with­in 3–11 min­utes, while the gold­en stan­dard usu­al­ly takes 2 days to per­form.
Patrik Dalqvist
CEO Insplo­ri­on
"The mix of fast and flex­i­ble in com­bi­na­tion with high­ly com­pe­tent and know­able ser­vice from Con­Science has been essen­tial in the devel­op­ment of our tech­nol­o­gy and our com­pa­ny."
Prof. Johan Elf
Upp­sala Uni­ver­si­ty
"Over the past six years of work­ing with Con­Science I have always been impressed with their sup­port in nanofab­ri­ca­tion. I would thor­ough­ly rec­om­mend this com­pa­ny!"
About ConScience
Con­Science is a high tech­nol­o­gy com­pa­ny offer­ing clean­room con­sult­ing. Our port­fo­lio ranges from self devel­oped prod­ucts via fab­ri­cat­ing your devices in a state-of-the-art clean­room facil­i­ty to real­iz­ing your ideas includ­ing the com­plete process devel­op­ment. The core of our busi­ness are our excel­lent nanofab­ri­ca­tion skills as well as our broad sci­en­tif­ic back­ground and open-mind­ed­ness. Under­stand­ing your sci­en­tif­ic idea enables us to give valu­able advise for plan­ning your project and turn­ing it into a nan­ode­vice. Our cus­tomers from aca­d­e­m­ic research and indus­try appre­ci­ate this phi­los­o­phy.